Savvy clients expect their family law attorneys to have all of the skills and knowledge required to help their families navigate the legal system. Top family lawyers stay abreast of developments in the law, trends in litigation and make sure that their skill set includes cutting-edge dispute resolution tools like collaborative law.
Clients will demand that their family lawyer not only know about the collaborative law process but also that their attorney be a recognized and trained collaborative law professional.
Saying that you are a "cooperative" attorney is not that same as being a fully trained collaborative attorney. Members of the Utah ACP have completed 30 hours of client-centered, facilitative conflict resolution training, 12 hours of collaborative law training from certified trainers, and at least 15 hours of additional training in advanced collaborative law or advanced conflict resolution training.
When you have completed your training requirements, your membership in the Utah ACP includes you among the most highly trained family law practitioners in Utah and your clients will be assured that you have the skills to help their families.

For Mental Health &
Financial Professionals

The Utah ACP is a multi-disciplinary group that includes attorneys, mental health professionals, and financial professionals. When a case calls for specialized input from a mental health professional, a child specialist, a financial planner, or an accountant, we can include in collaboratively trained professional as part of our team. Our multi-disciplinary approach allows us to serve our clients and their families in a holistic and solution-oriented process.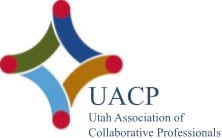 Resolving Divorce


with Dignity & Support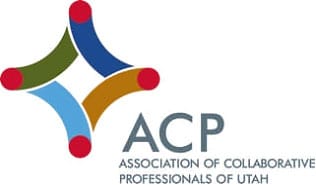 Resolving Divorce


with Dignity & Support